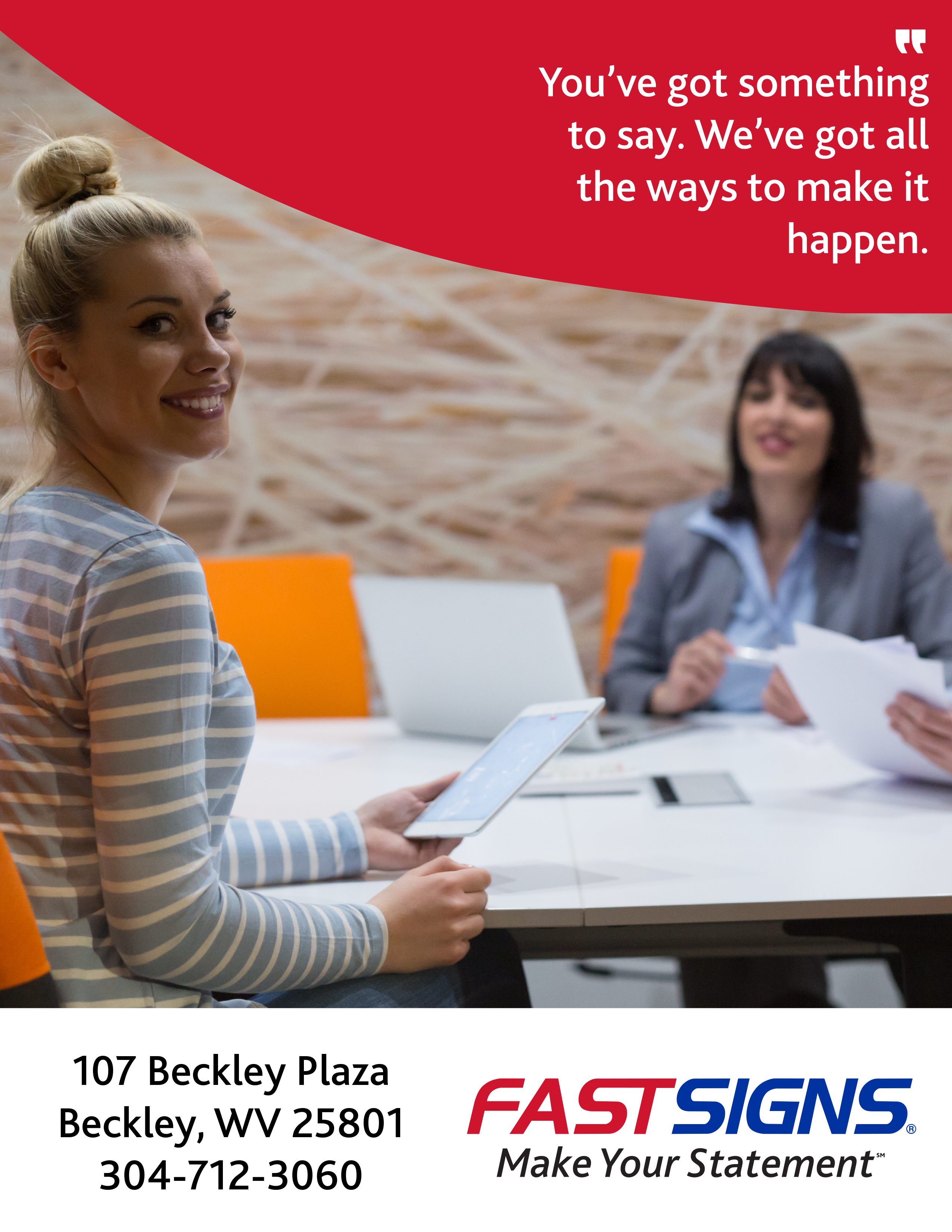 FASTSIGNS 2266
Phone: +13047123060
Email:fastsigns2266@fastsigns.com>
Address:107 BECKLEY PLAZA BECKLEY,WV - 25801, USA
FASTSIGNS is a signage, graphics and visual communications partner that provides comprehensive solutions to help customers of all sizes - across all industries - meet their business objectives and increase their business visibility through the use of signs, graphics, printing, promotional products and related marketing services. 
FASTSIGNS of Beckley is independently owned and operated as part of a network of 725 worldwide locations that provide consulting, design, production, project management, delivery and installation. 
Graphic Designer / Production Specialist Posted on - Jun 10, 2021
As a Graphic Designer, your primary responsibility will be to create computer-generated full-color graphics and output vinyl that can be weeded, cut, and applied, or printed and mounted to various products from cars to substrates to buildings. Your job will involve various levels of artistic creativity and you may interact with customers to ensure complete satisfaction with the final product. The ideal candidate is a creative, self-motivated team player who can work in a fast-paced, deadline driven environment and who is determined to make every project his or her absolute best. If this sounds like you, then we encourage you to Apply Now!
Customer Service Representative Posted on - Jun 10, 2021
Our ideal candidate for this position is someone who is outgoing, responsive, eager to learn and has the ability to build relationships. Great listening skills, documentation and organization are highly valued in candidates for this position. You will learn to prepare estimates, implement work orders and ensure timely delivery of finished orders. You will be involved in daily team meetings, execute business and marketing plans and be intimately involved in the success of the FASTSIGNS Center.
Name
Title
Phone
Bio
Billie Jackson
Franchisee/Owner
-

A proven history of helping others achieve personal and professional success through marketing and visual communications. I am the Franchisee/Owner of Fastsigns of Beckley. Experienced in helping the businesses in Raleigh and surrounding counties for 15+ years to achieve greatness. My team is "More than fast. More than signs."

FASTSIGNS is known in the visual communications world as the leader of the pack, always at the top of the franchise world year in and year out. Let us help you get noticed.

www.FASTSIGNS.com/2266

Joseph Jackson
Production Manager
-
Jordanne McVey
Graphics Designer
-
Adam Williams
Installation Manager
-